About Northeastern Connecticut Transit District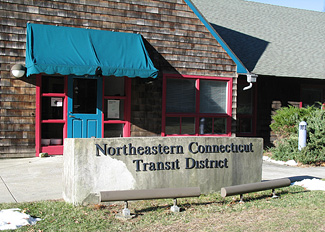 Established in 1978, the Northeastern Connecticut Transit District is the public transportation provider for northeastern Connecticut. Our rides are available for all residents and visitors to our region.
The District provides two types of service: deviated fixed route and dial-a-ride for elderly and disabled persons. The deviated fixed route service operates Monday - Sunday with various scheduled stops located throughout the service area. The elderly and disabled service, which provides door-to-door service, is also available Monday-Friday by reservation with NECTD.
NECTD is operated by the member towns of Brooklyn, Killingly, Putnam, and Thompson. The District serves, in addition to its member towns, the towns of Eastford, Plainfield, Pomfret, Woodstock, and Union. The day-to-day administration of NECTD is done by the Northeastern Connecticut Council of Governments.
NECTD serves a range of needs for people living in and visiting northeastern Connecticut. For some it is their link to medical care and basic needs. For others it is a way to work, shop, or to visit friends. Others choose NECTD to help the environment. Whatever the reason NECTD is here and available for everyone.